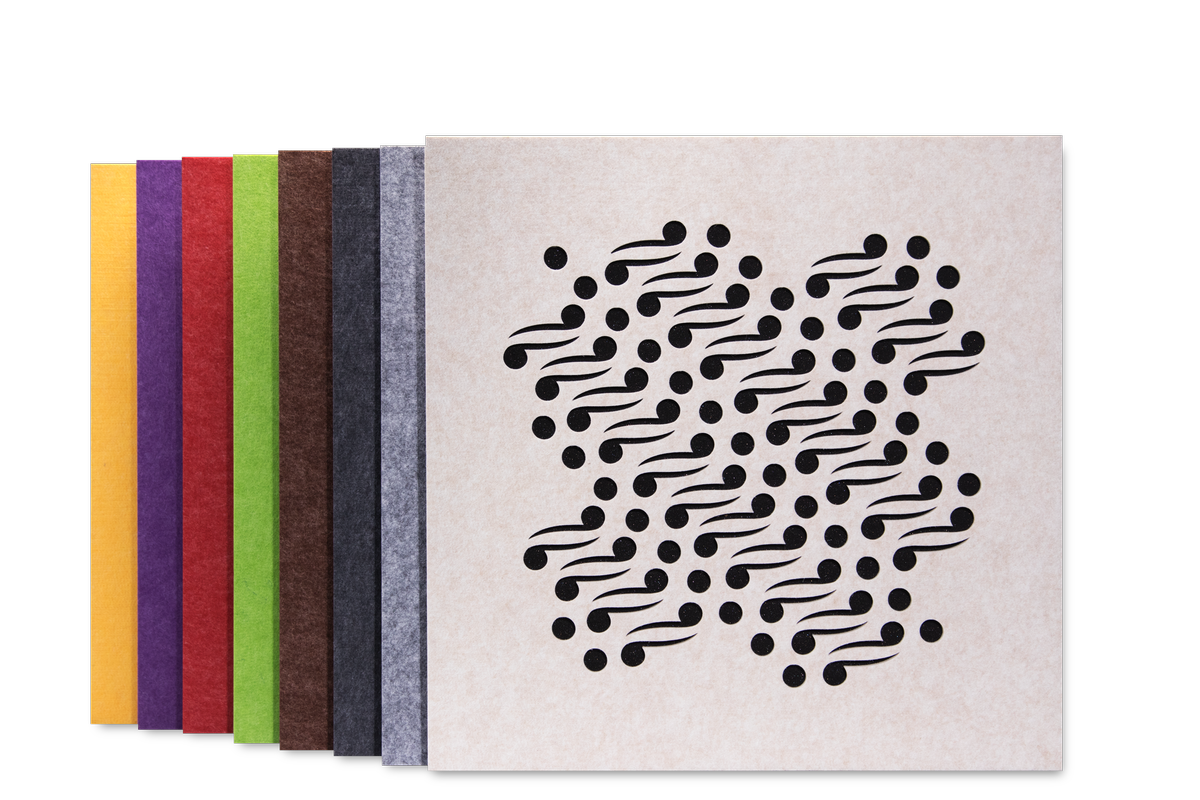 Science Art and Culture
in One Motion
NRC up to 0.8. High sound absorption value, with the most effective acoustic properties. Durable, strong, hydrophobic and environmental friendly. The most fashionable acoustic panels with the uniqueness
Permukaan depan dan tepi panel dapat menyerap suara secara efektif
Sehingga WaveBoard® Flatbed memiliki performa akustik yang luar biasa.
CRISP AND CLEAN CUT
Processed with the cutting edge technology.
Sharp, clean, nice and it's worth for you
Semi Rigid Material.
Density 213 kg/m3

Hard

Strong

Durable

More though other

than any acoustic

panel.
Splash Resistant
Hydrophobic Material
Free worries from humid, fungi, insect and odorless
WaveBoard® Flatbed coming with the uniqueness

of the Universe, Indonesia and Arabic culture.

This acoustic panel not only great but

with all the wisdom inside.
EQUATOR
The Richness Of Indonesia Culture
Kartasura
Model                         : Equator
Type                            : Kartasura
Specification
Material                      : PET Non-Woven & High Quality PU Foam
Fire Rated                   : Class A ( Tested accordance ASTM E84-2016 )
NRC                             : 0.8
Size                              : 600mm x 600mm x 44mm
Weight                         : 0.89kg
Kawung
Model                         : Equator
Type                            : Kawung
Specification
Material                      : PET Non-Woven & High Quality PU Foam
Fire Rated                   : Class A ( Tested accordance ASTM E84-2016 )
NRC                             : 0.8
Size                              : 600mm x 600mm x 44mm
Weight                         : 0.68kg
Talawang
Model                         : Equator
Type                            : Talawang
Specification
Material                      : PET Non-Woven & High Quality PU Foam
Fire Rated                   : Class A ( Tested accordance ASTM E84-2016 )
NRC                             : 0.8
Size                              : 600mm x 600mm x 44mm
Weight                         : 0.81kg
Baka
Model                         : Equator
Type                            : Baka
Specification
Material                      : PET Non-Woven & High Quality PU Foam
Fire Rated                   : Class A ( Tested accordance ASTM E84-2016 )
NRC                             : 0.8
Size                              : 600mm x 600mm x 44mm
Weight                         : 0.83kg
Frangi
Model                         : Equator
Type                            : Frangi
Specification
Material                      : PET Non-Woven & High Quality PU Foam
Fire Rated                   : Class A ( Tested accordance ASTM E84-2016 )
NRC                             : 0.8
Size                              : 600mm x 600mm x 44mm
Weight                         : 0.92kg
Paradice
Model                         : Equator
Type                            : Paradice
Specification
Material                      : PET Non-Woven & High Quality PU Foam
Fire Rated                   : Class A ( Tested accordance ASTM E84-2016 )
NRC                             : 0.8
Size                              : 600mm x 600mm x 44mm
Weight                         : 0.84kg
Matrix Rain
Model                         : Equator
Type                            : Matrix Rain
Specification
Material                      : PET Non-Woven & High Quality PU Foam
Fire Rated                   : Class A ( Tested accordance ASTM E84-2016 )
NRC                             : 0.8
Size                              : 600mm x 600mm x 44mm
Weight                         : 0.85kg
Mono Pole
Model                         : Cosmo
Type                            : Mono Pole
Specification
Material                      : PET Non-Woven & High Quality PU Foam
Fire Rated                   : Class A ( Tested accordance ASTM E84-2016 )
NRC                             : 0.8
Size                              : 600mm x 600mm x 44mm
Weight                         : 0.98kg
Astro
Model                         : Cosmo
Type                            : Astro
Specification
Material                      : PET Non-Woven & High Quality PU Foam
Fire Rated                   : Class A ( Tested accordance ASTM E84-2016 )
NRC                             : 0.8
Size                              : 600mm x 600mm x 44mm
Weight                         : 0.97kg
Spectra
Model                         : Cosmo
Type                            : Spectra
Specification
Material                      : PET Non-Woven & High Quality PU Foam
Fire Rated                   : Class A ( Tested accordance ASTM E84-2016 )
NRC                             : 0.8
Size                              : 600mm x 600mm x 44mm
Weight                         : 0.95kg
Moza
Model                         : Cosmo
Type                            : Moza
Specification
Material                      : PET Non-Woven & High Quality PU Foam
Fire Rated                   : Class A ( Tested accordance ASTM E84-2016 )
Size                              : 600mm x 600mm x 44mm
Weight                         : 0.86kg
Organic
Model                         : Cosmo
Type                            : Organic
Specification
Material                      : PET Non-Woven & High Quality PU Foam
Fire Rated                   : Class A ( Tested accordance ASTM E84-2016 )
NRC                             : 0.8
Size                              : 600mm x 600mm x 44mm
Weight                         : 0.82kg
Mecca
Model                         : Arabesque
Type                            : Mecca
Specification
Material                      : PET Non-Woven & High Quality PU Foam
Fire Rated                   : Class A ( Tested accordance ASTM E84-2016 )
NRC                             : 0.8
Size                              : 600mm x 600mm x 44mm
Weight                         : 0.80kg
Riyadh
Model                         : Arabesque
Type                            : Riyadh
Specification
Material                      : PET Non-Woven & High Quality PU Foam
Fire Rated                   : Class A ( Tested accordance ASTM E84-2016 )
NRC                             : 0.8
Size                              : 600mm x 600mm x 44mm
Weight                         : 0.87kg
Jeddah
Model                         : Arabesque
Type                            : Jeddah
Specification
Material                      : PET Non-Woven & High Quality PU Foam
Fire Rated                   : Class A ( Tested accordance ASTM E84-2016 )
Size                              : 600mm x 600mm x 44mm
Weight                         : 0.84kg
Madinah
Model                         : Arabesque
Type                            : Madinah
Specification
Material                      : PET Non-Woven & High Quality PU Foam
Fire Rated                   : Class A ( Tested accordance ASTM E84-2016 )
NRC                             : 0.8
Size                              : 600mm x 600mm x 44mm
Weight                         : 0.83kg
BTW…
It's Coming From Around You
Thank You to Save Our Earth